The Riverfront Development Corporation of Delaware is pleased to reopen The Horizon Services Riverfront Rink for its 4th season. This family-oriented, outdoor ice skating rink provides fun for all ages! The 2017/2018 season will operate November 24th through the end of March 4, 2018. The Riverfront Rink is able to accommodate approximately 350 skaters at once and will be open 7 days a week with extended hours during the holiday break. The Horizon Services Riverfront Rink not only brings the fun winter tradition of skating to the Wilmington Riverfront, it will also offer numerous programs and promotions throughout the skating season. Lace up your skates and we'll see you at the rink!
Join our team!
Spend the winter at the coolest place in town!—Download our employment application below. Completed applications can be emailed to Jamie Senn, our Operations Manager, at jsenn@riverfrontwilm.com.

Pricing
12 and under
available at skate rental
based on availability
available for purchase in-person at the ticket shed
Season Pass
starting at $62.50
Skate Rental Sizes
Youth Size 8 through Adult Size 13
Skate Helpers/Walkers are based on availability (no holds). Helmets are suggested but not required for under the age of 4. We proudly accept all major credit cards and cash at our ticket shed.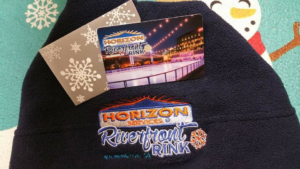 Get gift cards to the coolest place in town! Or skate all winter with a Season Pass! More Info
Available only at our ticket shed during operating hours!

Hours
Monday – Thursday
4PM – 9PM
Open Skate
Friday
4PM – 10PM
Open Skate Session Times:
4:00pm-5:30
5:30-7:00pm
7:30-10:00pm
Saturday
11AM – 10PM
Open Skate Session Times:
11:00am-12:30pm
12:30pm-2:00pm
2:30pm-4:00pm
4:00pm-5:30pm
6:00pm-7:30pm
8:00pm-10:00pm
Sunday
11AM – 9PM
Open Skate Session Times:
11:00am-12:30pm
12:30pm-2:00pm
2:30pm-4:00pm
4:00pm-5:30pm
6:00pm-7:30pm
7:30pm-9:00pm
Last ticket sells 1 hour before posted closing time. In the event that we are closed for holidays, weather or any other unexpected closings, we will make an announcement on our Facebook page. Please be sure to like us at Riverfront Rink and we will provide daily updates as needed.
Open skate is available Monday – Thursday between 4pm – 9pm. Skate sessions are in effect Friday, Saturday and Sunday. Skate Sessions can change through the season and are a minimum of 1.5 hours. Each skate session begins at the time of admission purchased.
Please note the quality of the ice is extremely important to us. During your skate session if deemed necessary we may need to perform ice maintenance. A routine ice maintenance can be completed in 10 minutes or less.